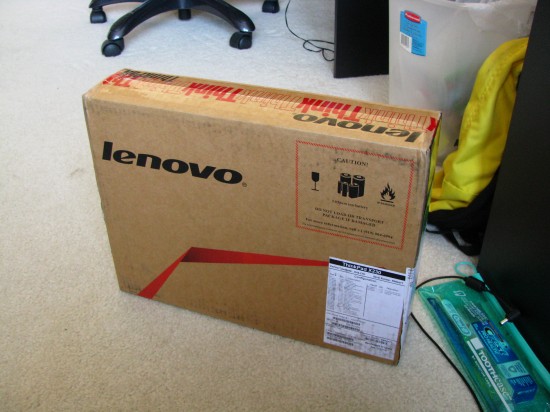 This is a review of my experience with Ubuntu GNU/Linux on the Lenovo Thinkpad x230 with Intel Ivy Bridge, but parts may also apply to the T430, T530, W530, and the x230t.
The laptop's configuration:
Intel Core i5-3210M (3M Cache, up to 3.10GHz)
12.5″ Premium HD (1366×768) IPS, 2×2 Antenna
Intel HD 4000 Graphics integrated on Core i5-3210M
UltraNav without FingerPrint Reader
720p HD Camera
500GB Hard Drive, 5400RPM
6 Cell ThinkPad Battery, X44+
65W AC Adapter – US Only
Intel Centrino Wireless-N 2200 (2×2 BGN)
Thinkpads are excellent laptops for college students, especially those in computer science. They are durable and have excellent compatibility with Linux.
Lenovo laptops come with Windows, and I have to say, using GNU/Linux really spoils you. Windows 7 was terribly slow. The first time you boot, it runs through the hardware performance tests which should have been completed at manufacturing. The taskbar is precustomized with a bulky battery icon and Lenovo's suite of ThinkVantage tools for Windows. The wireless driver wouldn't hold a stable connection.
I made a startup flash drive with the latest 12.04LTS Ubuntu ISO. The x230 does not have an optical drive, and installing operating systems via flash drive is less wasteful anyway.
Press Enter, then F12 to get a boot device selection screen, and your USB flash drive should appear as one of the choices.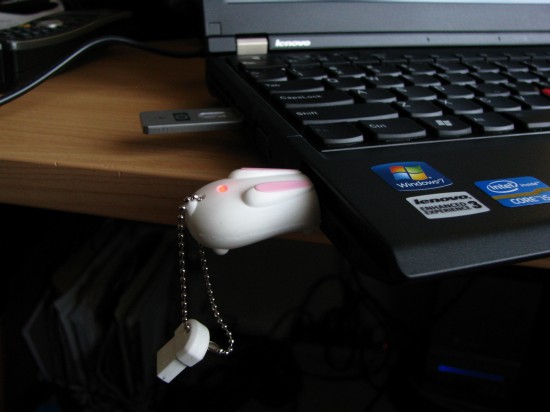 Make sure you are plugged into AC power (and that the battery is out) when you are installing. This operation generates a lot of CPU heat which could shorten the life of a battery.
I shrunk the Windows partition to 80G and divided the rest into a 0.5G swap, 100G system partition, and a 300G /home partition. I booted into the LiveCD (or LiveUSB?) before I ran the ubiquity installer, because it has historically given me more reliable results.
The home partition isn't encrypted, because anything sensitive on my file system has per-file encryption anyway.
My observations of the x230 hardware:
This new generation of Thinkpads features the new chiclet-style keyboards. They are the flat island-style keys that you find on the MBP and other mainstream laptops, instead of the fully raised keys (the ones usually on desktop keyboards) that were on previous Thinkpads. As someone who's used desktops all their life, the x230′s "Precision Keyboard" really is a step up from the clunky mechanical ones. I had to work from tty1 for a while to get the system ready, pre-DE, so there was no copy and paste to work with. Typing out long strings and commands without error was no problem at all. You simply tend not to make mistakes with these keys.
The orange-blue-red-silver-black color scheme of past Thinkpads was one of the things that set them apart from mainstream laptops: Thinkpads are ugly and strangely colored. The new generation of Thinkpads, including the x230, has a stricter color-code. They keyboard is black and white with a drop of red highlights and green/orange LED's. It's much closer to what you'd expect from a mainstream laptop. The exterior is largely unchanged, and just as clean and professional as before.
My desktop has high-quality HD dual monitors, so the IPS LED display option on the Lenovo was very comfortable move. The viewing angles are very wide, but that doesn't matter because you'll probably be adjusting the screen anyway. It can be very bright if you want it to, but I keep it at about 40% to save battery. 1366×768 is just fine for me.
Battery life is phenomenal. I got the 6-cell 65Wh option. Booting draws about 10-12 watts while web browsing takes anywhere from 6-7 for WordPress to 8-9 for G+ and such. You can easily get 7 to 9 hours of work on this, granted that you are taking care of your battery. More on that later.
The pads on the bottom of the 6 cell battery do stick out. If the battery is in, the Thinkpad only rests on the 2 pads of the palm rests and the 2 pads of the battery, utilizing 4 of the total 6 bottom pads. This is not a big deal to me, but it may be to some.
The touchpads on Thinkpads are nothing special. They are actually, rather below average compared to most laptops. Most Thinkpad users disable the touchpad and use the red trackpoint instead (the nub looking thing between the G and H keys). It takes a while to get used to it, but I prefer it to the touchpad.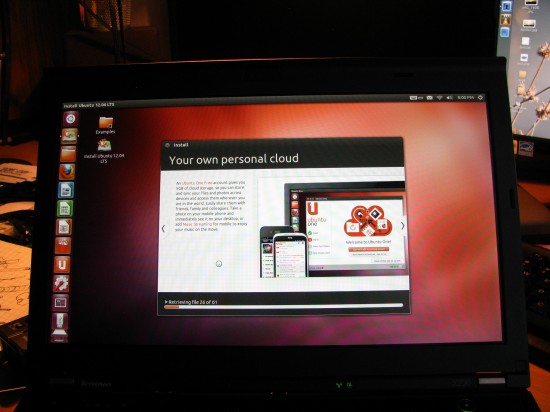 Ubuntu 12.04 comes with Linux Kernel 3.2.0-23-generic, which doesn't have great support for the Intel HD4000 integrated graphics. If you put too much stress on the graphics system, it may freeze altogether. Ctrl+Alt+F1 doesn't work. I grabbed the 3.4.0 stable kernel from kernel.ubuntu.com/~kernel-ppa/mainline and the issues have disappeared. With new hardware like that in the X230, it's always a good idea to grab the latest kernel.
The Intel Centrino 2200-N chip had a problem connecting using 802.11n to my wifi. I used a the 11n_disable=1 switch to disable the N capability, and now it's stable. I'm not sure if this is a hardware or software problem, as Windows can't use the N network at all. In Ubuntu, announced connection speed drops down to 1 Mbps occasionally.
The rest of the laptop worked out of the box with Ubuntu GNU/Linux. The mute, volume, and power buttons all work. The microphone mute, I haven't tested yet. The 720p webcam is good for most purposes, and works out of the box. The wifi works, the battery and its associated sensors work.
Lithium-ion batteries like the X44+ in the Thinkpad x230 do not like deep-recharge cycles. Unlike alkaline batteries, lithium-based ones do not have a physical memory and do not lose their capacity if you don't discharge them fully and recharge them all the way. Make sure you research battery-care before you start using any laptop.
I installed the Jupiter applet to manage battery life. It doesn't tweak the x230′s screen brightness, but you can do that yourself with Fn+F8 and Fn+F9. It does tweak everything else, including powering down the audio input/output port when it's not being used. I also installed powertop to monitor battery draw.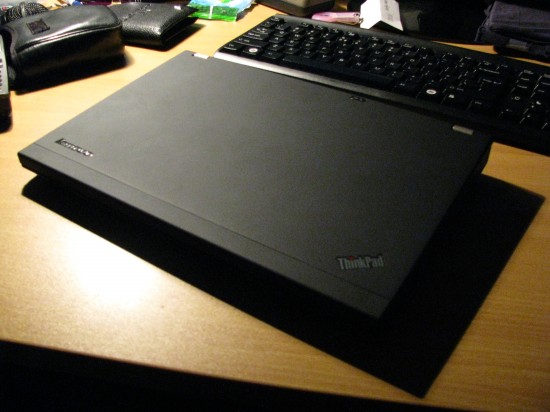 So, that's the X230. I look forward to using it.